About the Museum
Where can you discover stories of crusty bones and long-lost creatures, marvel at Egyptian mummies, uncover the secrets of ancient civilizations, and enter the battlefields of World Wars? The Museum of World Treasures! With three floors of exhibits and surprises around every corner, you'll unlock the stories of the past!

The Museum of World Treasures also offers a one-of-a-kind banquet room perfect for weddings, birthdays, meetings, and more. Your guests will be amazed by the unique setting and perfect downtown location. With reasonable pricing and open catering, you will find our space flexible and affordable. Give us a call or drop by to take a look at our banquet space today!

nonprofit
The Museum of World Treasures is a not-for-profit 501(c)(3) Kansas corporation and is able to provide a variety of educational programs, entertaining events, and inspiring exhibits because of the generosity of its donors. Tax-deductible donations support the Museum's many educational programs, exhibits, and operations. Are you interested in joining as a Museum Member? Please call us at (316) 263-1311 or visit our Memberships pages for more information.
History
Dr. Jon and Lorna Kardatzke founded the Museum of World Treasures as a nonprofit organization in 2001 at the Garvey Center in downtown Wichita, Kansas. About two years later – due to tremendous growth – the Museum relocated to the well known "Farm & Art Market" building in Old Town. The building is located just east of downtown and is a converted former paper warehouse. Old Town offers a vibrant mix of restaurants, shops, clubs, and attractions in central Wichita. While the Museum of World Treasures is still considered young, it is the number one rated museum in Wichita on TripAdvisor.
Our Mission
To provide a gateway to the past that educates, entertains and inspires lifelong learning.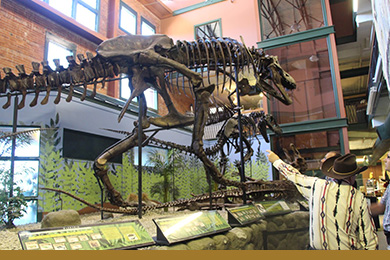 Museum News
Looking for more information? Check out press and Museum news.
Banquet Rental Space
The Museum offers great spaces to host any event, from large wedding receptions to smaller, corporate meetings. We offer in-house services for events, and with Egyptian mummies and dinosaurs, we provide good company, too.
Learn more